Your Trusted Below-the-Hook Partner
Large and varied hire fleet of high quality lifting gear to support your crane operations.
From long term projects, contract lifts or single day specific rentals, LGH can support all of your below the hook lifting solutions.
All equipment tested and certified, ready and waiting for immediate delivery from our strategically located depots.
Equipment can be mobilised with short notice, providing our customers with piece of mind that we wont leave your crane hook "hanging around".

---
Rigging Equipment for your Crane or Contract Lift Project
LGH have decades of experience supporting local and national crane companies with their rigging equipment. We understand every heavy lifting job is different and so are our bespoke solutions. Our team of experts work closely with crane operators to ensure they always get the right rigging equipment to meet their specifications.
From wire ropes, lifting blocks, shackles, slings, jacks and more, we have a huge fleet of equipment from the best manufacturers that is available for quick delivery across the UK. Our varied range of load measuring equipment is best-in-class for weighing your load and calculating the CoG (centre of gravity) before the lift.
When there's no room for error, choose a company with over 50 years experience. We'll take the heavy lifting out of equipment hire.
---
ADDING VALUE
Not only do we have over 50 years of expertise, we also invest in the latest technology and equipment to support our customers including the development of an in-house rigging calculator and by providing an illustrative bespoke lifting drawing. All tested and certified by our in-house technical team.

---
CASE STUDY
HANGING GLASS WALKWAY, DELOITTE BUILDING, LONDON
Unlike modern cities, with their broad, grid-pattern streets, London is an historic capital with narrow, winding roads and densely packed buildings. This makes any construction work difficult, with lifting work, taking place in between the capital's tall buildings, a real challenge. Achieving a safe, secure lift, in narrow confines with tall structures either side, takes real skill and experience – which is exactly what LGH are known for across the construction industry.
THE CHALLENGE
Bronzeshield were required to carry out a full contract lift at the Deloitte buildings to install a glass walkway between two of their buildings in Central London, to facilitate access between the two departments and avoid staff having to go outside in all weathers.
The walkway weighed 50tonnes and had to be lifted in a very tight space between the two buildings, without the upper slings interfering with either structure and compromising the lift.
To complicate matters, the lift was scheduled for a weekend and involved road closures, so it had to be right first time. Furthermore, the load would need to be accurately levelled on the ground before being suspended for 4-5 hours while the walkway was correctly located and fixed to the structures on either side.
THE SOLUTION
LGH worked in close collaboration with Operations Director, Bill Stanworth, from Bronzeshield, along with Andrew Finch from W Finch & Co and Seele UK.
The client initially requested an 8m bespoke lifting beam with a 6m upper centre, however, the team from LGH used their experience and expertise to come up with an even better alternative.
LGH provided Bronzeshield with an 8m x 2m CMOD110 lifting frame, fitted with special top slings to achieve the clearances required between the buildings, coupled with four 20t manual chain blocks to balance the load and achieve levelling before the lift. The total weight of the equipment used was 4.5t.
THE RESULT
"Expert planning and innovative design, in advance of the lift, ensured that the walkway was lifted using Bronzeshield's flagship Liebherr LTM1500 crane and our equipment, exactly as required on the day, maintaining its level, and held firm while it was anchored into place."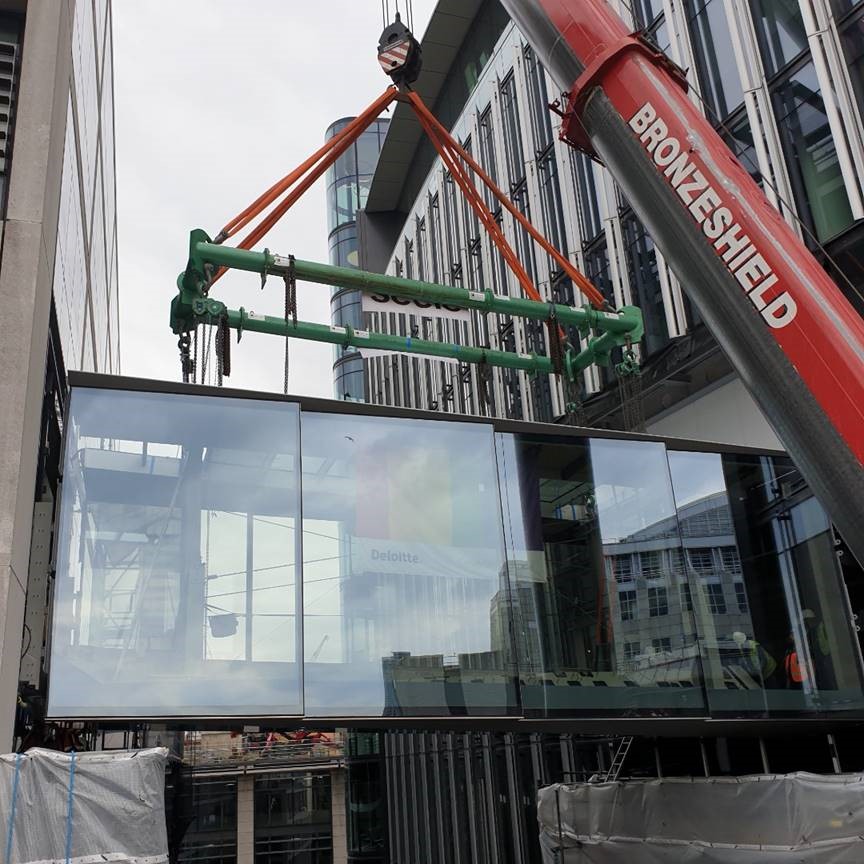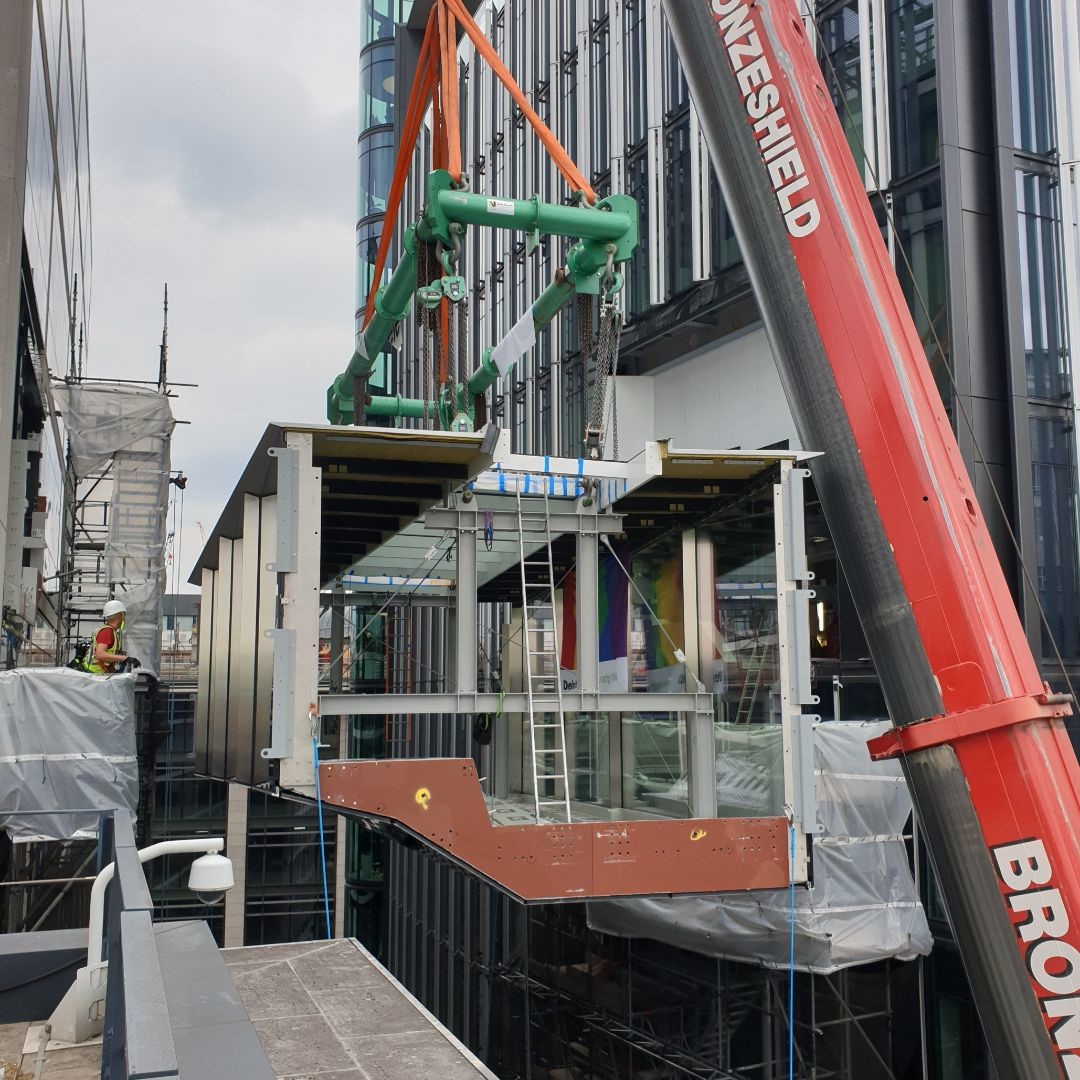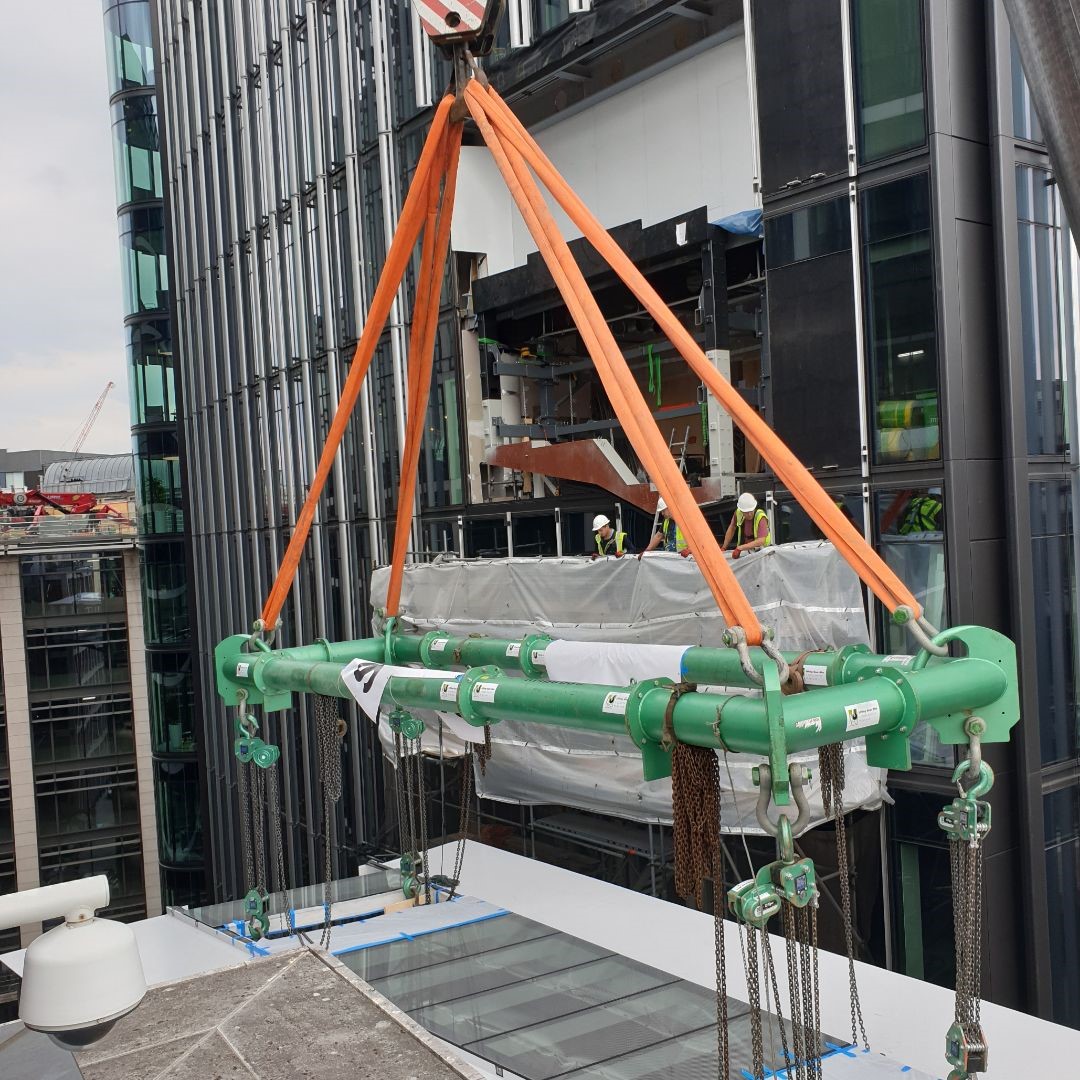 ---
KNOWLEDGE AND EXPERTISE ACROSS CONTINENTAL EUROPE
Speak to us on our online chat (Monday to Friday, 8.30am to 5pm), call 03704 247 247 or email us enquiries@lgh.co.uk today to speak to one of our Rental Desk experts or get in touch direct with your Technical Sales Manager.