Modulift are the leading global spreader beam designer and manufacturer in the market. We've partnered with them for many years at LGH and we wouldn't consider using anybody else's spreader beams.
Using Modular Spreader Beams enables you to be more flexible over a number of lifts without needing to hire a new Spreader Beam every time. Modulift's lightweight design also minimises the overall weight of the lifting equipment and hence the costs incurred whilst working between the hook and the load.
Every Modulift Modular Spreader Beam consists of a pair of End Units and a pair of Drop Links, with interchangeable struts that can be bolted into the assembly between the End Units to either lengthen or shorten the beam to suit the requirements of the lift, making them reusable at different spans.
The LGH assortment of spreader beam assemblies offers a wide range of spans, configurations and capacities to suit your wide and varied lifting needs. Our sizes range from 6t to 400t with spans available from 0.5m to over 31m. Greater load capacities available on request.
Rigging Options
Organising a lift can be a complicated process with many factors that need to be considered – and first and foremost is the rig planning.
For extremely low headroom applications, LGH can support you by designing and delivering a bespoke lifting frame to suit your exact requirements.
Our technical team is available to provide recommendations on your lift plan. Send us details of your lift including weight, lifting points and position, height restrictions, load type, centre of gravity (COG) position, crane type and lifting environment.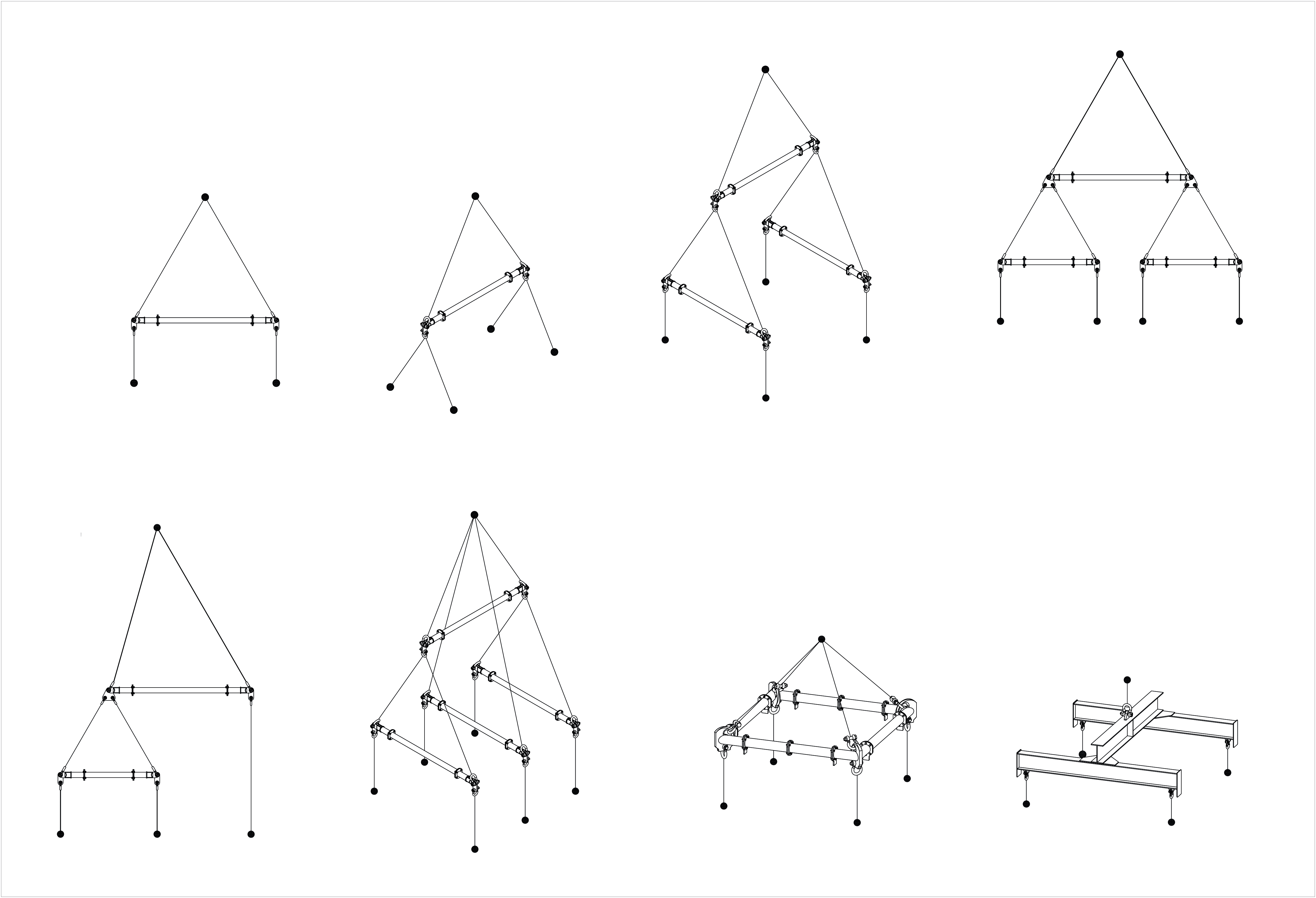 One Beam, Many Lifts - Your Guide to Some of the Configurations Available to You
Modulift-Spreader-Beams-Rigging-Options
1. Simple Single Beam 2 Point Lift
A single Spreader Beam is the simplest configuration and is suitable for 2 point lifts. The Spreader Beam absorbs the compression forces to protect the load being lifted.
2. Single Beam 4 Point Lift
This configuration again used a single beam where the load being lifted has four individual lifting points.
3. 1-Over-2 Rig
We use this configuration when vertical slings are essential for 4 point lifts. By varying the sling lengths, we can also take into account an offset centre of gravity.
4. 1-Over-2 Inline Rig
Ideal for those lifts where the span is long and potential bending of the load is a problem. Further cascading layers are available to increase the number of lifting points
5. 1-Over-1
Where there are an uneven number of points to lift from a 1 over 1 system can be used to lift the load whilst still providing a balanced rig.
6. Various Multi Spreader Beam Rigs
With our expert help we can address most lifting issues using a combination of our products to fit the application and the circumstances.
7. CMOD Spreader Frame
The CMod spreader frame uses corner units to connect existing Modulift struts into a 4 point modular spreader frame. This uses less headroom than a 1 over 2 rig.
Call our friendly and expert team for advice on your next rig: 03704 247 247